Term Dates - whole school
Millbay Academy
Primary School Return:
Wednesday 5th January
2022
At present we aim to return to Primary as expected on Wednesday 5th January 2022
This may change in line with government guidance. If so we will update this page.
Secondary School:
Staggered Return Dates
January 2022
Dear Families,
On Wednesday 5th January 2022 we are implementing on-site testing for all secondary students due to the increased level of COVID 19 cases in our Academy and across the local area. Testing has been playing a vital role in the response to COVID-19. It is helping to break chains of transmission by identifying asymptomatic positive cases quickly. This means those who test positive can obtain a PCR test and self-isolate if required, keeping other students in face-to-face education. Reporting all test results, positive or negative, helps the health experts have a clearer picture of any potential outbreaks in different parts of the country. That is why we would like all students to take part in the testing.
Covid testing arrangements - Secondary
We are advising all secondary students to take a Lateral Flow Test at home on the day, prior to returning to school.
There will be a phased return to on-site education for ALL secondary pupils, ensuring they have the opportunity to be tested before they safely return to face-to-face teaching.
IMPORTANT - Consent for Lateral Flow Testing
Only those students where consent has been provided will be tested. If parents/guardians have previously given consent for on-site testing via the link below, further consent will not be required. If you are unsure whether you have previously given consent, please do follow the link below and give consent. The deadline for this is 6pm on Tuesday 14th December 2021.
Pupils will return to school in Tutor Groups for their test as detailed below. On the day of their first test, they will need to immediately return home (not mix with other students) for the rest of the day. If they receive a negative result, they will then return to full on-site education the following day. Only students with positive or void results will be contacted with their result; if you do not hear back from us, it means the test result was negative and your child can return to school the next day. There is no requirement to wear uniform on the day of testing.
The Cargo Building is opposite the Volkswagen building on Hobart Street - See link to a previous Youtube Video showing Lateral Flow Testing at the Cargo building.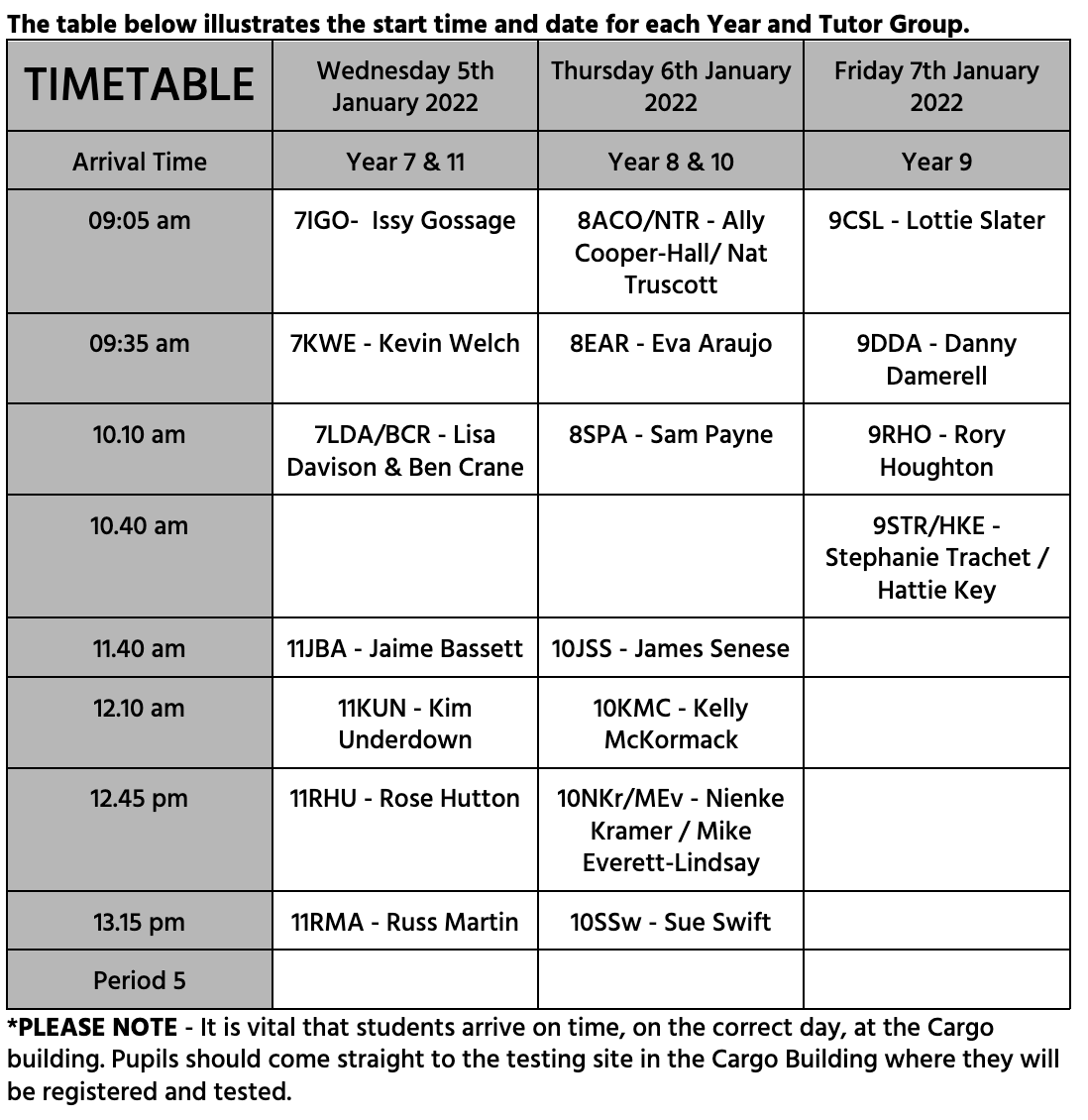 2021 - 2022